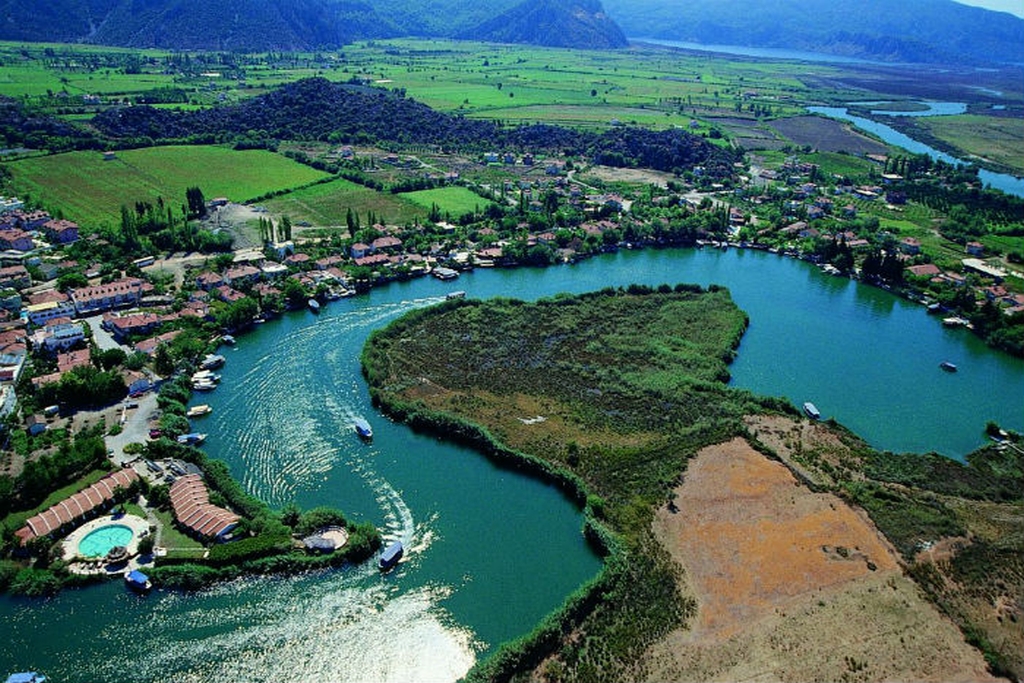 If you are interested in our Dalyan villas then here is some information about the area. Located in the province of Mugla, between Marmaris and Fethiye, is the beautiful town of Dalyan. As well as being a popular tourist destination, Dalyan is well known for its growth of delicious fruits and pomegranates, and every market day people come from different areas to buy the fruits.
Here in Dalyan lies Iztuzu beach, home of the endangered loggerhead sea turtles. The beach is protected ground which allows nesting and breeding of the turtles, and is closed between 8pm and 8am when the turtles lay their eggs.
Staying in one of our Dalyan villas gives you the opportunity to visit this beach which is a fantastic place to visit, not only to see its beauty, but to do some turtle spotting and catch a glimpse of these fascinating animals.
There are many excursions from other areas of Turkey which go to the Dalyan mud baths, where you can smother yourself in the nutrient rich river mud which is said to reduce aging of the skin, you can rinse off in the clear, pure water of the Dalyan River. There are also sulphur baths which again are said to do wonders for your skin.
Also near Dalyan, is the Lycian rock tombs, in which you can see ancient tombs built into the hillside.
After experiencing Dalyan's beauty and history, you can wine and dine in one of Dalyan's restaurants serving delicious local cuisine.
Our Dalyan Villas are set in stunning locations, are fully equipped with everything you need during your stay, and are of some of the best quality properties.