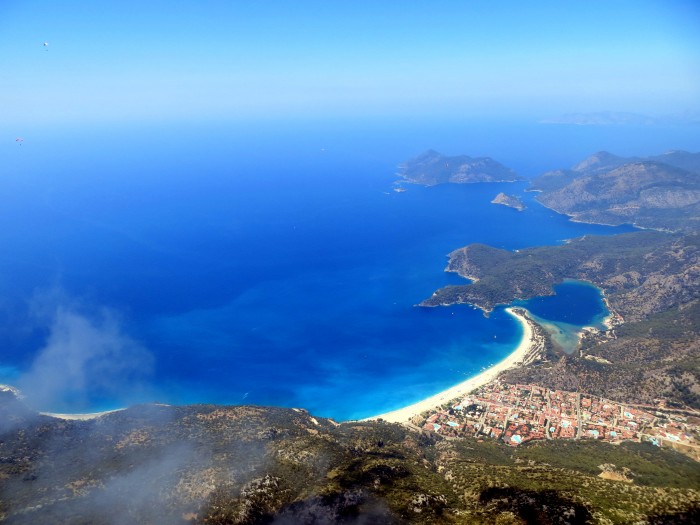 Oludeniz is a beach resort which is located at the conjunction point of the Aegean and Mediterranean Seas, and lies at the foot of Babadag, a mountain which stands at 1,969m tall.
The famous blue lagoon is one of the most photographed beaches on the Mediterranean, and it remains an iconic scene of many adverts for Turkey. The sea is a very distinct, bright turquoise and the beaches consist of pale sand, which contributes to what makes Oludeniz a paradise destination.
There are many trips and excursions which depart from Oludeniz such as white water rafting, jeep safari, boat trips, Pammukale, and Ephesus. Oludeniz is specifically well known for being one of the best places in the world for Paragliding, due to its tall mountain (Babadag), and stunning views. It attracts both professional and tourist paragliding, in which you can book a paragliding experience with a professional pilot and glide down from the mountain top, landing on the promenade.
There are also various water sports going on in Oludeniz during the summer months.
Oludeniz has a great selection of cafes and restaurants, bars, a couple of nightclubs, and a varied range of gift and souvenir shops, and clothes, shoes and accessory shops.
Oludeniz villas are an excellent choice for people who want to stay close to the sea, enjoy unspoiled views of the beach, ocean, islands and mountains, and have luxury in their holiday home. The reason why we say 'unspoiled views' is because there are nor high rise buildings in Oludeniz, with the majority of buildings being no more than two stories high, also Oludeniz villas are situated on the hillside so guests can take full advantage of the breath taking views.