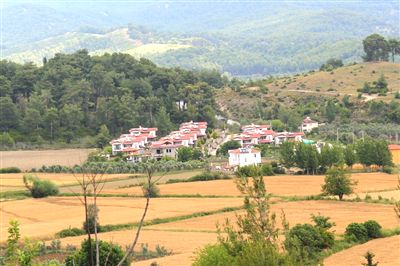 Seydikemer is a district in the Mugla province, and is approximately 21 km inland from Fethiye. It is distinct from other destinations because it is set in the country side and is approximately a 40 minute drive from both Patara beach and Oludeniz beach. The town of Seydikemer remains quite a traditional Turkish town, but hosts a variety of local shops, a few cafes, and a couple of restaurants which are popular amongst residents and visitors to the area.
Seydikemer villas are special because they have beautiful views of the country side, are set in peaceful locations and yet have a sense of community both with other holiday makers and the local residents.
The villas are beautifully designed, luxurious and modern on the inside, with the outside being very picturesque and fitting with the pretty country side surroundings. They also have luscious gardens and large swimming pools for a great holiday experience.
They are very spacious, and are also ideal for low season rentals due to the cosy log fires in the living room.
People who choose to rent Seydikemer villas have the added advantage, as mentioned above, of having the options of two renowned and popular beaches, Patara and Oludeniz. They also can also enjoy trips to the nearby Yakapark, which is a restaurant and tourist attraction built amongst natural waterfalls, streams, and pools, covered by trees, which make it a 'must-go' when you want relief from the hot temperatures during the height of summer.