Villa Eylul

MARKET 40 m

BEACH 1 km

BUS STOP 10 m

RESTAURANT 900 m

NEAREST CENTER 800 m

AIRPORT 120 km
















































































































APRIL

£ 1200

1520$ 1380€ 43854TL

Minimum
stay
7 Night

MAY

£ 1300

1650$ 1500€ 47509TL

Minimum
stay
7 Night

JUNE

£ 1400

1770$ 1610€ 51164TL

Minimum
stay
7 Night

JULY

£ 2000

2530$ 2310€ 73091TL

Minimum
stay
7 Night

AUGUST

£ 2000

2530$ 2310€ 73091TL

Minimum
stay
7 Night

SEPTEMBER

£ 1400

1770$ 1610€ 51164TL

Minimum
stay
7 Night

OCTOBER

£ 1300

1650$ 1500€ 47509TL

Minimum
stay
7 Night

NOVEMBER

£ 1200

1520$ 1380€ 43854TL

Minimum
stay
7 Night
£ 1200
1520$ 1380€ 43854TL
£ 1300
1650$ 1500€ 47509TL
£ 1400
1770$ 1610€ 51164TL
£ 2000
2530$ 2310€ 73091TL
£ 2000
2530$ 2310€ 73091TL
£ 1400
1770$ 1610€ 51164TL
£ 1300
1650$ 1500€ 47509TL
£ 1200
1520$ 1380€ 43854TL
Description
Bedrooms
1. bedroom: Sea view, 2 single Istikbal brand beds, comfortable, box-spring bed, 2 LED illuminated nightstand, 1 mirrored dresser, functional, mirrored, sliding door wardrobe, master bathroom, Daikin brand inverter air conditioner. (Ground floor)
2nd bedroom: Sea view, 2 single Istikbal brand orthopedic beds, comfortable, box-spring bed, 2 LED illuminated stylish bedside table, 1 mirrored dresser, functional and mirrored, sliding door wardrobe, master bath, Daikin brand inverter air conditioner . (Ground floor)
3.Bedroom: Sea view, suites, family bedroom, 1 piece. Double Istikbal brand orthopedic bed, comfortable, box-spring bed, 2 LED illuminated nightstand, 1 mirrored dresser, functional and mirrored, wardrobe with sliding doors, ensuite bathroom, double jacuzzi, Daikin brand inverter air conditioning, balcony. (2nd Floor)
4.Bedroom: Sea view, suite, family bedroom, 1 double Istikbal brand orthopedic bed, comfortable, box-spring bed, 2 LED illuminated nightstand, 1 mirrored chest of drawers, functional and mirrored, sliding door wardrobe, parent bath, Daikin brand inverter air conditioner, balcony. (2nd Floor)
5.Bedroom: Sea view, suite, family bedroom, 1 double Istikbal brand orthopedic bed, comfortable, box-spring bed, 2 stylish LED night tables, 1 mirrored chest of drawers, functional and mirrored, sliding door wardrobe, parent bath, Daikin brand inverter air conditioner, panoramic sea and nature view terrace (Penthouse)
Lounge Sea view, terrace type balcony, pool side exit, led lighting, two-stage and remote control chandelier lighting, Istikbal brand modern seating group, bar chair, Samsung brand 32 inch (102 screen) 3D Led-Smart TV, Samsung brand blue -ray DVD player, satellite dish receiver, wireless internet (TTNET), WC + bathroom. (1st floor)
Kitchen Modern American Kitchen, by the pool, Refrigerator, Dishwasher, Built-in Oven, 4-burner (built-in), Electric kettle, Microwave, Filter Coffee machine, Toaster, Egg cooker, Tableware for 12 people, Frying pans , Pans, cutlery, beer, wine etc. glasses. (1st floor)
Garden Private garden, private pool on the terrace, dining table, garden seating, group, parasol, BBQ
NOTE: The villa pictures in our site are taken with 12-18 mm Wide Angle Lens to fit the image to the screen. Therefore, the objects in the pictures may appear to be larger than the reality.

Cleaning / Towels / Linen / Maid-service: Bathroom towels and bed linen included. If you are staying for more than one week then the villa will be cleaned and linen changed. If you require extra cleans and linen changes then these can be arranged at a fee.

Damage Deposit: an accidental damage deposit is required when you arrive, which will be returned to you at the end of your stay if everything is in order. If anything is broken or damaged we will deduct the cost of repair/replacement from your returned deposit.

Other information: Please bring your own beach towels if you require them.
Please note: before booking please read the villa description and view photos to see what is included. Extra services and items are not provided.
Check-in time: 4pm.
Check-out time: 10am.
Pricing: There may be price alterations during Bayram periods. Please inquire for details.
Rating
Villa Eylul
Rated
NAN
/5 based on reviews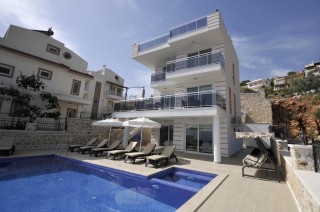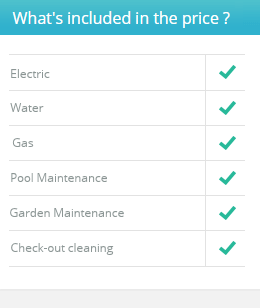 Nearby Villas