Villa The Bay Beach

MARKET 50 m

BEACH 50 m

BUS STOP 50 m

RESTAURANT 50 m

NEAREST CENTER 10 km

AIRPORT 38 km
APRIL

£ 2710

3740$ 3140€ 28100TL

Minimum
stay
0 Night

MAY

£ 2710

3740$ 3140€ 28100TL

Minimum
stay
0 Night

JUNE

£ 4120

5690$ 4770€ 42710TL

Minimum
stay
0 Night

JULY

£ 6000

8290$ 6940€ 62200TL

Minimum
stay
0 Night

AUGUST

£ 6000

8290$ 6940€ 62200TL

Minimum
stay
0 Night

SEPTEMBER

£ 3520

4860$ 4070€ 36490TL

Minimum
stay
0 Night

OCTOBER

£ 2710

3740$ 3140€ 28100TL

Minimum
stay
0 Night

NOVEMBER

£ 2710

3740$ 3140€ 28100TL

Minimum
stay
0 Night
£ 2710
3740$ 3140€ 28100TL
£ 2710
3740$ 3140€ 28100TL
£ 4120
5690$ 4770€ 42710TL
£ 6000
8290$ 6940€ 62200TL
£ 6000
8290$ 6940€ 62200TL
£ 3520
4860$ 4070€ 36490TL
£ 2710
3740$ 3140€ 28100TL
£ 2710
3740$ 3140€ 28100TL
Description
Villa The Bay Beach is located in Günlü Bay, just off the Göcek -Fethiye road. The bay is a natural wonder with its magnificent sea and forest view.
Situated by the calm and crystal clear sea, is the concept of a holiday Village consisting of 5 villas side by side with both its own private pool and a shared pool.
It offers a holiday opportunity where the concept of hotel and holiday village is blended and you can benefit from all the facilities of the hotel. It serves as a full board. In the property where the villa is located, you can find the opportunity to listen to live music every day. There is a spa and grocery store within the facility, with every detail in mind.
Bedrooms
Bedroom 1: The first bedroom has an exit to the pool terrace. It offers a holiday opportunity where you can find peace with its nature view. In the room: 2 single beds, dressing table, wardrobe, air conditioning, minibar, kettle set and TV. There is a bathroom and WC in the room.
2nd Bedroom: There is an exit from the second bedroom to the pool terrace. There is 1 double bed in the second bedroom. There is a jacuzzi, vanity table, TV, wardrobe, minibar, air conditioner, and kettle set.
Hall: The hall has an exit to the pool terrace. There are 2 armchairs, armchair, TV, air conditioning, minibar, kettle set, coffee table, dining table and chair.
Garden: There are sun beds, umbrellas, chairs and coffee tables in the garden.
Pool: Pool dimensions: Depth: 1.40, 7 meters x 3 meters in size.
Internet: Wi-Fi is available in the villa. Due to the infrastructure of the region, cross-sections from internet service providers may be experienced.

NOTE: The villa pictures in our site are taken with 12-18 mm Wide Angle Lens to fit the image to the screen. Therefore, the objects in the pictures may appear to be larger than the reality.

Cleaning / Towels / Linen / Maid-service: Bathroom towels and bed linen included. If you are staying for more than one week then the villa will be cleaned and linen changed. If you require extra cleans and linen changes then these can be arranged at a fee.

Damage Deposit: an accidental damage deposit is required when you arrive, which will be returned to you at the end of your stay if everything is in order. If anything is broken or damaged we will deduct the cost of repair/replacement from your returned deposit.

Other information: Please bring your own beach towels if you require them.
Please note: before booking please read the villa description and view photos to see what is included. Extra services and items are not provided.
Check-in time: 4pm.
Check-out time: 10am.
Pricing: There are price alterations during Bayram periods. Please inquire for details.
Rating
Villa The Bay Beach
Rated
0
/5 based on reviews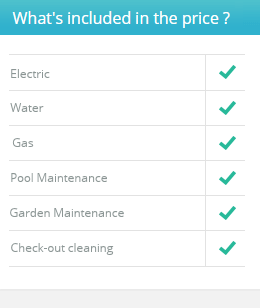 Nearby Villas