Villa Kagan 1

MARKET 500 mt

BEACH 150 mt

BUS STOP 5 km

RESTAURANT 500 mt

NEAREST CENTER 5 km

AIRPORT 150 km




















































APRIL

£ 920

1170$ 1060€ 33622TL

Minimum
stay
7 Night

MAY

£ 1060

1340$ 1220€ 38738TL

Minimum
stay
7 Night

JUNE

£ 1660

2100$ 1910€ 60665TL

Minimum
stay
7 Night

JULY

£ 1660

2100$ 1910€ 60665TL

Minimum
stay
7 Night

AUGUST

£ 1660

2100$ 1910€ 60665TL

Minimum
stay
7 Night

SEPTEMBER

£ 1660

2100$ 1910€ 60665TL

Minimum
stay
7 Night

OCTOBER

£ 1060

1340$ 1220€ 38738TL

Minimum
stay
7 Night

NOVEMBER

£ 920

1170$ 1060€ 33622TL

Minimum
stay
7 Night
£ 920
1170$ 1060€ 33622TL
£ 1060
1340$ 1220€ 38738TL
£ 1660
2100$ 1910€ 60665TL
£ 1660
2100$ 1910€ 60665TL
£ 1660
2100$ 1910€ 60665TL
£ 1660
2100$ 1910€ 60665TL
£ 1060
1340$ 1220€ 38738TL
£ 920
1170$ 1060€ 33622TL
Description
Villa Kagan 1
Location: Kas

Location Type: Sea side resort
Maximum Capacity: 6
Description:
Villa Kagan is a 3 bedroom, semi-detached villa which is located on the prestigious Kas peninsula. It is set in great location because although it is quiet and peaceful, there are a couple of boutique hotels and restaurants within walking distance of the villa. This means that you can enjoy the nearby facilities or go for an evening meal without worrying about transport home.
Kas town centre is just a five minute drive away and there is a regular minibus service which runs to and from the town during the season. The steps leading down from the villa provide easy access to the sea which is 150 metres away, and it should be noted that the villa has stunning views of the sea.
The villa can comfortably accommodate up to 6 guests and with its own private swimming pool, it makes a perfect holiday home for families and friends.
Bedrooms
Bedroom 1: Double bed, communal bathroom and W.C
Bedroom 2: Double bed, communal bathroom and W.C.
Bedroom 3: Twin beds, communal bathroom and W.C

Living Room: Open plan with kitchen and dining area, comfortable lounge area, TV, DVD player.

Kitchen: Open plan with living room and dining area, fully fitted and equipped with built in hob, electric oven, fridge/freezer, kettle, dishwasher, microwave, and toaster.

Other: Air conditioned throughout, Wi-Fi available.

Outside: Private swimming pool and gardens, sunbeds, parasols, BBQ area, outdoor furniture, shower.

Cleaning / Towels / Linen / Maid-service:
Bathroom towels and bed linen included. If you are staying for more than one week then the villa will be cleaned and linen changed. If you require extra cleans and linen changes then these can be arranged at a fee.
Damage Deposit: An accidental damage deposit is required when you arrive, which will be returned to you at the end of your stay if everything is in order. If anything is broken or damaged we will deduct the cost of repair/replacement from your returned deposit.
Other information: Please bring your own beach towels if you require them.
Rating
Villa Kagan 1
Rated
NAN
/5 based on reviews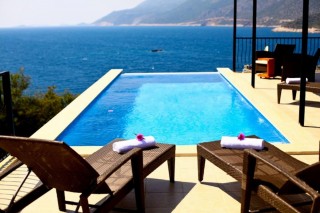 Villa Kagan is a 3 bedroom, semi-detached villa which is located on the prestigious Kas peninsula. It is set in great location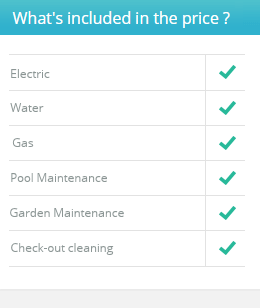 Nearby Villas