Villa Star

MARKET 2 km

BEACH 9 km

BUS STOP 8 km

RESTAURANT 2 km

NEAREST CENTER 8 km

AIRPORT 130 km












































































APRIL

£ 410

550$ 490€ 7440TL

Minimum
stay
5 Night

MAY

£ 520

700$ 620€ 9436TL

Minimum
stay
5 Night

JUNE

£ 740

1000$ 880€ 13429TL

Minimum
stay
7 Night

JULY

£ 900

1210$ 1070€ 16332TL

Minimum
stay
7 Night

AUGUST

£ 900

1210$ 1070€ 16332TL

Minimum
stay
7 Night

SEPTEMBER

£ 740

1000$ 880€ 13429TL

Minimum
stay
7 Night

OCTOBER

£ 520

700$ 620€ 9436TL

Minimum
stay
5 Night

NOVEMBER

£ 410

550$ 490€ 7440TL

Minimum
stay
5 Night
£ 410
550$ 490€ 7440TL
£ 520
700$ 620€ 9436TL
£ 740
1000$ 880€ 13429TL
£ 900
1210$ 1070€ 16332TL
£ 900
1210$ 1070€ 16332TL
£ 740
1000$ 880€ 13429TL
£ 520
700$ 620€ 9436TL
£ 410
550$ 490€ 7440TL
Description
Villa Star is a modern and luxury 2 bedroom villa located in the quiet village of Islamlar, Kalkan. It is a peaceful and tranquil location, with stunning natural scenery and sea views. There are plenty of local shops and restaurants close by, and the centre of Kalkan is a 15-20 minute drive. This villa is perfect for couples and those on their honeymoon, with 2 bedrooms, one with a jacuzzi, private and secluded swimming pool and sunbathing area, and plenty of luxury. It is also ideal for a family wishing to spend their holiday in a beautiful, peaceful area.
Bedrooms: 2
Bedroom 1 : Double Bed, air-conditioning, Dressing Table, Wardrobe, Bedside table, Jacuzzi, bathroom and WC, balcony with sea view .
Bedroom 2 : 2 Single Beds, air-conditioning, Dressing Table, Bedside table, wardrobe, bathroom and toilet, balcony with sea view.
Bathrooms: 2 bathrooms, 3 WC.
Living room: Comfortable, air-conditioned, and stylish lounge area with beautiful sea views, receiver, TV (LCD) , Sink , iron and ironing board are available. There is access to swimming pool.
Kitchen: Modern American kitchen with nature and sea views, fully equipped with Refrigerator, Washing Machine , Dishwasher , Oven, Built- in hob, Electric Kettle, Microwave Oven, Toaster, Cutlery, water and tea coffee cups, pots and pans , 4- Person Dining Set.
Outside: Outdoor dining table and chairs, BBQ, sun loungers, Sun umbrellas and shower, garden lounge.
Swimming pool: Private swimming pool in the garden. Pool Size 7.5m . X 3m. , Depth 1.65 M. DR.
Internet : Internet connection is available in Villa Stars
Cleaning / Towels / Linen / Maid-service:
Bathroom towels and bed linen included. If you are staying for more than one week then the villa will be cleaned and linen changed. If you require extra cleans and linen changes then these can be arranged at a fee.
Damage Deposit: an accidental damage deposit is required when you arrive, which will be returned to you at the end of your stay if everything is in order. If anything is broken or damaged we will deduct the cost of repair/replacement from your returned deposit.
Other information: Please bring your own beach towels if you require them.
Please note: before booking please read the villa description and view photos to see what is included. Extra services and items are not provided.
Check-in time: 4pm.
Check-out time: 10am.
For early check-in or late check-out an extra night will need to be booked.
Rating
Villa Star
Rated
NAN
/5 based on reviews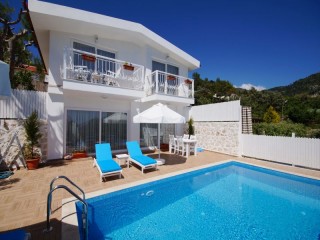 Villa Star is a modern and luxury 2 bedroom villa located in the quiet village of Islamlar, Kalkan. It is a peaceful, tranquil location, and stunning views